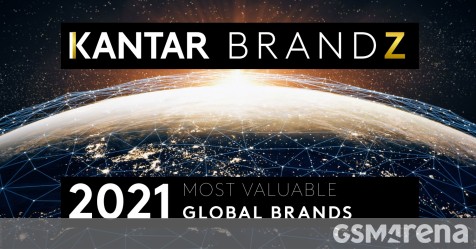 Kantar published its BrandZ report, which lists the most valuable brands globally. The #1 spot is held by Amazon with a brand value of $684 billion, up a whopping $268 billion (+64%) compared to last year.
It was the first to become a half-a-trillion-dollar brand, the second one is Apple, which holds the #2 spot with $612 billion (+74%), followed by Google at $458 billion (+42%).
Samsung is #42 on the list, Huawei is a bit further down in #50, then further down is Xiaomi at #70. This is an improvement of 11 places compared to last year and the brand now between Budweiser and BMW.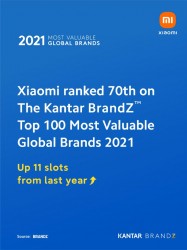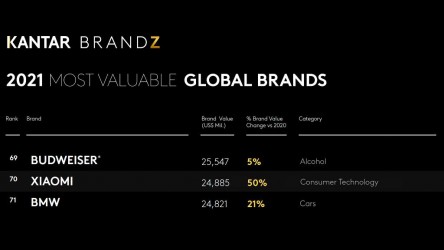 The Xiaomi now has the 70th most valuable brand in the world (up 11 places), according to Kantar
The fastest growing brand this year was Tesla, which shot up 275%, followed by TikTok with +158%, the two companies are #47 and #45 on the list, respectively.
The Top 100 on the BrandZ Most Valuable Global Brands list for 2021 are some interesting additions – Nvidia at #12, Qualcomm at #37, AMD at #57, Snapchat at #82 and Spotify at #99. And, of course, Zoom at #52, the popularity of group video calls exploded over the last year.
Subscription businesses grew in popularity during the pandemic and lifted their brands up the ladder: Xbox is up 55%, Disney is up 13%, Netflix is +55% and Spotify improved enough to get into the Top 100 for the first time.
Below is the full BrandZ infographic showing the Top 100 most valuable brands around the world: